Jump to
2019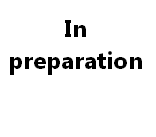 A cortico-basal ganglia-thalamo-cortical circuit for motor planning.
In preparation.
---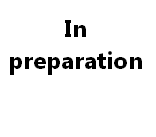 Functional mapping of corticothalamic connections. 
In preparation.
---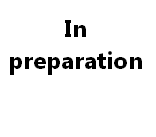 Spatiotemporal limits of optogenetic manipulations in cortical circuits. 
In preparation.
2017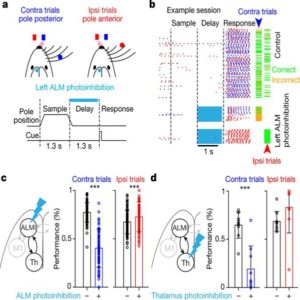 Maintenance of persistent activity in a frontal thalamocortical loop.
ZV Guo, HK Inagaki, K Daie, S Druckmann, CR Gerfen and K Svoboda. Nature. 2017. 545, 181-186.
Download PDF | Supp Info | Show AbstractPersistent neural activity maintains information that connects past and future events. Models of persistent activity often invoke reverberations within local cortical circuits, but long-range circuits could also contribute. Neurons in the mouse anterior lateral motor cortex (ALM) have been shown to have selective persistent activity that instructs future actions. The ALM is connected bidirectionally with parts of the thalamus, including the ventral medial and ventral anterior–lateral nuclei. We recorded spikes from the ALM and thalamus during tactile discrimination with a delayed directional response. Here we show that, similar to ALM neurons, thalamic neurons exhibited selective persistent delay activity that predicted movement direction. Unilateral photoinhibition of delay activity in the ALM or thalamus produced contralesional neglect. Photoinhibition of the thalamus caused a short-latency and near-complete collapse of ALM activity. Similarly, photoinhibition of the ALM diminished thalamic activity. Our results show that the thalamus is a circuit hub in motor preparation and suggest that persistent activity requires reciprocal excitation across multiple brain areas.
2015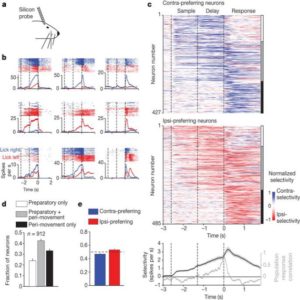 A motor cortex circuit for motor planning and movement.
N Li, T Chen, ZV Guo, CR Gerfen and K Svoboda. Nature. 2015, 519, 51-56.
Download PDF | Show AbstractActivity in motor cortex predicts specific movements seconds before they occur, but how this preparatory activity relates to upcoming movements is obscure. We dissected the conversion of preparatory activity to movement within a structured motor cortex circuit. An anterior lateral region of the mouse cortex (a possible homologue of premotor cortex in primates) contains equal proportions of intermingled neurons predicting ipsi- or contralateral movements, yet unilateral inactivation of this cortical region during movement planning disrupts contralateral movements. Using cell-type-specific electrophysiology, cellular imaging and optogenetic perturbation, we show that layer 5 neurons projecting within the cortex have unbiased laterality. Activity with a contralateral population bias arises specifically in layer 5 neurons projecting to the brainstem, and only late during movement planning. These results reveal the transformation of distributed preparatory activity into movement commands within hierarchically organized cortical circuits.
2014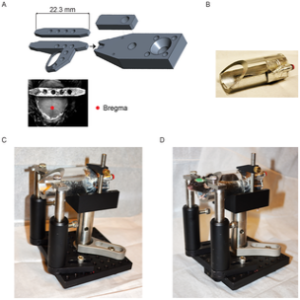 Procedures for behavioral experiments in head-fixed mice.
ZV Guo, SA Hires, N Li, DH, O'Connor, T Komiyama, E. Ophir, D Huber, C Bonardi, K Morandell, D Gutnisky, S Peron, N Xu, J Cox, K Svoboda. Plos one. 2014, 9(2): e88678.
Download PDF | Show AbstractThe mouse is an increasingly prominent model for the analysis of mammalian neuronal circuits. Neural circuits ultimately have to be probed during behaviors that engage the circuits. Linking circuit dynamics to behavior requires precise control of sensory stimuli and measurement of body movements. Head-fixation has been used for behavioral research, particularly in non-human primates, to facilitate precise stimulus control, behavioral monitoring and neural recording. However, choice-based, perceptual decision tasks by head-fixed mice have only recently been introduced. Training mice relies on motivating mice using water restriction. Here we describe procedures for head-fixation, water restriction and behavioral training for head-fixed mice, with a focus on active, whisker-based tactile behaviors. In these experiments mice had restricted access to water (typically 1 ml/day). After ten days of water restriction, body weight stabilized at approximately 80% of initial weight. At that point mice were trained to discriminate sensory stimuli using operant conditioning. Head-fixed mice reported stimuli by licking in go/no-go tasks and also using a forced choice paradigm using a dual lickport. In some cases mice learned to discriminate sensory stimuli in a few trials within the first behavioral session. Delay epochs lasting a second or more were used to separate sensation (e.g. tactile exploration) and action (i.e. licking). Mice performed a variety of perceptual decision tasks with high performance for hundreds of trials per behavioral session. Up to four months of continuous water restriction showed no adverse health effects. Behavioral performance correlated with the degree of water restriction, supporting the importance of controlling access to water. These behavioral paradigms can be combined with cellular resolution imaging, random access photostimulation, and whole cell recordings.
---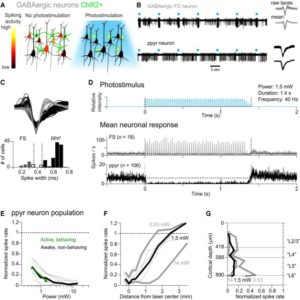 Flow of cortical activity underlying a tactile decision in mice.
ZV Guo, N Li, D Huber, E Ophir, D Gutnisky, JT Ting, G Feng and K Svoboda. Neuron. 2014, 81, 179-94.
Download PDF | Show AbstractPerceptual decisions involve distributed cortical activity. Does information flow sequentially from one cortical area to another, or do networks of interconnected areas contribute at the same time? Here we delineate when and how activity in specific areas drives a whisker-based decision in mice. A short-term memory component temporally separated tactile "sensation" and "action" (licking). Using optogenetic inhibition (spatial resolution, 2 mm; temporal resolution, 100 ms), we surveyed the neocortex for regions driving behavior during specific behavioral epochs. Barrel cortex was critical for sensation. During the short-term memory, unilateral inhibition of anterior lateral motor cortex biased responses to the ipsilateral side. Consistently, barrel cortex showed stimulus-specific activity during sensation, whereas motor cortex showed choice-specific preparatory activity and movement-related activity, consistent with roles in motor planning and movement. These results suggest serial information flow from sensory to motor areas during perceptual decision making.
2013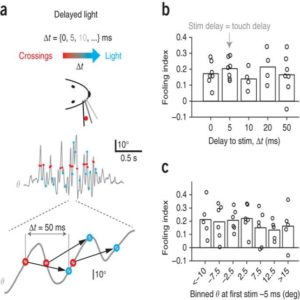 Neural coding during active somatosensation revealed using illusory touch.
DH O'Connor, SA Hires, ZV Guo, N Li, J Yu, Q Sun, D Huber and K Svoboda. Nature Neuroscience. 2013, 16, 958-965.
Download PDF | Supp Info | Show AbstractActive sensation requires the convergence of external stimuli with representations of body movements. We used mouse behavior, electrophysiology and optogenetics to dissect the temporal interactions among whisker movement, neural activity and sensation of touch. We photostimulated layer 4 activity in single barrels in a closed loop with whisking. Mimicking touch-related neural activity caused illusory perception of an object at a particular location, but scrambling the timing of the spikes over one whisking cycle (tens of milliseconds) did not abolish the illusion, indicating that knowledge of instantaneous whisker position is unnecessary for discriminating object locations. The illusions were induced only during bouts of directed whisking, when mice expected touch, and in the relevant barrel. Reducing activity biased behavior, consistent with a spike count code for object detection at a particular location. Our results show that mice integrate coding of touch with movement over timescales of a whisking bout to produce perception of active touch.
---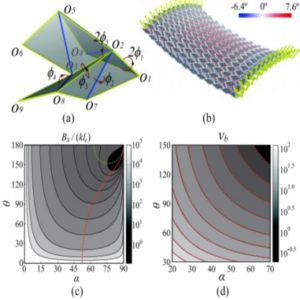 Geometric mechanics of periodic pleated origami.
Z Wei, ZV Guo, L Dudte, H Liang and L Mahadevan. Physical Review Letters. 2013, 110, 215501-5.
Download PDF | Show AbstractOrigami structures are mechanical metamaterials with properties that arise almost exclusively from the geometry of the constituent folds and the constraint of piecewise isometric deformations. Here we characterize the geometry and planar and nonplanar effective elastic response of a simple periodically folded Miura-ori structure, which is composed of identical unit cells of mountain and valley folds with four-coordinated ridges, defined completely by two angles and two lengths. We show that the in-plane and out-of-plane Poisson's ratios are equal in magnitude, but opposite in sign, independent of material properties. Furthermore, we show that effective bending stiffness of the unit cell is singular, allowing us to characterize the two-dimensional deformation of a plate in terms of a one-dimensional theory. Finally, we solve the inverse design problem of determining the geometric parameters for the optimal geometric and mechanical response of these extreme structures.
2012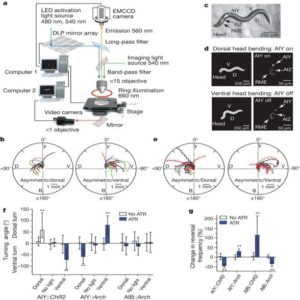 Controlling interneuron activity in Caenorhabditis elegans to evoke chemotactic behavior.
K Askin, C Shen, ZV Guo and S Ramanathan. Nature. 2012, 490, 273–277.
Download PDF | Supp Info | Show AbstractAnimals locate and track chemoattractive gradients in the environment to find food. With its small nervous system, Caenorhabditis elegans is a good model system in which to understand how the dynamics of neural activity control this search behaviour. Extensive work on the nematode has identified the neurons that are necessary for the different locomotory behaviours underlying chemotaxis through the use of laser ablation, activity recording in immobilized animals and the study of mutants. However, we do not know the neural activity patterns in C. elegans that are sufficient to control its complex chemotactic behaviour. To understand how the activity in its interneurons coordinate different motor programs to lead the animal to food, here we used optogenetics and new optical tools to manipulate neural activity directly in freely moving animals to evoke chemotactic behaviour. By deducing the classes of activity patterns triggered during chemotaxis and exciting individual neurons with these patterns, we identified interneurons that control the essential locomotory programs for this behaviour. Notably, we discovered that controlling the dynamics of activity in just one interneuron pair (AIY) was sufficient to force the animal to locate, turn towards and track virtual light gradients. Two distinct activity patterns triggered in AIY as the animal moved through the gradient controlled reversals and gradual turns to drive chemotactic behaviour. Because AIY neurons are post-synaptic to most chemosensory and thermosensory neurons, it is probable that these activity patterns in AIY have an important role in controlling and coordinating different taxis behaviours of the animal.
2009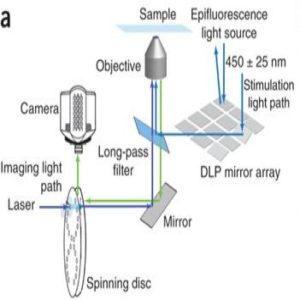 Optical interrogation of neural circuits in Caenorhabditis elegans.
ZV Guo, AC Hart and S Ramanathan. Nature Methods. 2009, 6, 891-896.
Download PDF | Supp Info | Show AbstractThe nematode Caenorhabditis elegans has a compact nervous system with only 302 neurons. Whereas most of the synaptic connections between these neurons have been identified by electron microscopy serial reconstructions, functional connections have been inferred between only a few neurons through combinations of electrophysiology, cell ablation, in vivo calcium imaging and genetic analysis. To map functional connections between neurons, we combined in vivo optical stimulation with simultaneous calcium imaging. We analyzed the connections from the ASH sensory neurons and RIM interneurons to the command interneurons AVA and AVD. Stimulation of ASH or RIM neurons using channelrhodopsin-2 (ChR2) resulted in activation of AVA neurons, evoking an avoidance behavior. Our results demonstrate that we can excite specific neurons expressing ChR2 while simultaneously monitoring G-CaMP fluorescence in several other neurons, making it possible to rapidly decipher functional connections in C. elegans neural circuits.
2008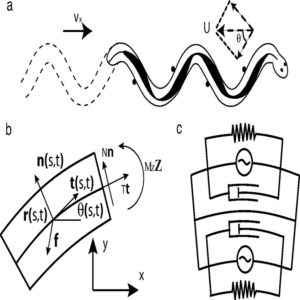 Limbless undulatory propulsion on land.
ZV Guo and L Mahadevan. Proceedings of the National Academy of Sciences. 2008, 105(9), 3179-3184.
Download PDF | Show AbstractWe analyze the lateral undulatory motion of a natural or artificial snake or other slender organism that "swims" on land by propagating retrograde flexural waves. The governing equations for the planar lateral undulation of a thin filament that interacts frictionally with its environment lead to an incomplete system. Closures accounting for the forces generated by the internal muscles and the interaction of the filament with its environment lead to a nonlinear boundary value problem, which we solve using a combination of analytical and numerical methods. We find that the primary determinant of the shape of the organism is its interaction with the external environment, whereas the speed of the organism is determined primarily by the internal muscular forces, consistent with prior qualitative observations. Our model also allows us to pose and solve a variety of optimization problems such as those associated with maximum speed and mechanical efficiency, thus defining the performance envelope of this mode of locomotion.
2006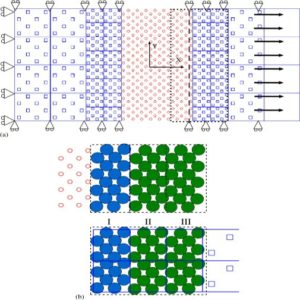 MPM/MD handshaking method for multiscale simulation and its application to high energy cluster impacts.
Z Guo and W Yang. International Journal of Mechanical Sciences, 2006, 48(2), 145–159.
Download PDF | Show AbstractWe propose a new multiscale simulation method which seamlessly combines the conventional molecular dynamics (MD) with the continuum mechanics formulated under the material point method (MPM). In MPM, modified interpolation shape functions are adopted to reduce artificial forces on the hierarchical background grids. The multiscale method is validated using the examples of step-like wave and wave packet propagations within a bar. The method is applicable to several kinds of potentials including the Lennard–Jones, EAM and a bonding-angle related potential for silicon. Examples of high energy Cu–Cu and Si–Si cluster impacts are presented. The evolution of displaced atoms is found to depend on the underlying lattice structures. For the case of Cu–Cu cluster impacts, stacking faults play an important role. The displaced atoms, visualized in the method of "local crystalline order", propagate in an anisotropic manner. This implies the anisotropy in energy transformation process through multi-interactions among cluster and surface atoms.